Our Staff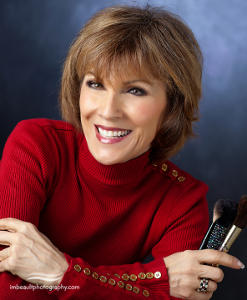 Janis Cohen
Janis Cohen is an accomplished and creative Master Airbrush makeup artist with over 10 years' experience in all aspects of media, fashion, video and print. Janis now leads her team of Beauty Professional Artists for both Hair and Makeup services for all occasions, and we bring the products, skills and experience to you!
Her training and education, along with her affable personality provides her clients with a dependable, detail-oriented, and multi-faceted professional to help coordinate any special event.
Janis displays her mastery for creating the right look, a "flawless on film" look, whether by artistry techniques, beautiful skin tones, breath-taking shading or coordinating exquisite colors always with the needs, goals and objective of making her client feel comfortable and relaxed, knowing that she attend to every detail picture perfect! I can create a look for you on your wedding day, that when you look back at your photos, you will be amazed on how beautiful you felt that day. I really can say, I love what I do!
Janis and her team are available to travel on location, and welcome you to view her portfolio and read her reviews to see why she has become the most highly recognized name in the Bridal Beauty Community!
Wedding Makeup – Pageant Makeup – Portrait Makeup – Event Makeup – Editorial Makeup – HD Makeup Instructions
Master Airbrush Graduate / Boca School of Beauty / Boca Raton, FL
MAC Certified Artist
---
Michelle:
Michelle is very creative when applying makeup and tailors your look to your facial features. She works with the up to date and latest trends and techniques for flawless Bridal Airbrushed makeup applications. Michelle believes in creating a look that is classic and enhances your natural beauty.
You will look absolutely stunning with the sweat and water resistant Airbrushing as well as eye and lip shades which lasts all day which will keep you looking picture perfect!
Experienced, Dependable, Prompt.
Specializing in Hi Def. makeup, she is a certified professional makeup artist that has an extensive line of products for those who like traditional makeup as well.
Michelle is ready to be part of your very special day.
---
Lauren: New York/New Jersey Makeup Artist
Lauren is a freelance makeup artist working mainly in the New York and New Jersey area. She has worked in film, television, fashion including shows during Mercedes Benz Fashion Week and many different kinds of live and special events including weddings. She received training in beauty makeup, special effects and hairstyling at the Makeup Designory which is the top makeup school in Manhattan.
Lauren loves to make every person she works with feel beautiful and confident, whether it is with very soft and natural makeup or dramatic high fashion looks. She uses only the highest quality professional products to make sure you look and feel great and don't have to worry about your makeup lasting all day long."
---
Deidra:
Deidra is a freelance makeup artist based in Boston. She has years of experience applying makeup for many faces in the entertainment industry. She also has years of experience as a bridal makeup artist. Her passion for makeup started at a very early age, and she started her career as a professional makeup artist 5 years ago. Her training and experience in the industry has made her an expert in creating a flawless look for your special day. Deidra feels that getting your makeup done on your wedding day should be an experience in itself. She enjoys prepping the skin and uses the highest quality products to make you look like the best version of yourself! She is well known for her attention to detail and likes to work with each one of her brides to create a customized look that will bring out their best features. The whole process is definitely a collaboration and the end result is a gorgeous face.
---