Preparing and Scheduling Your Trial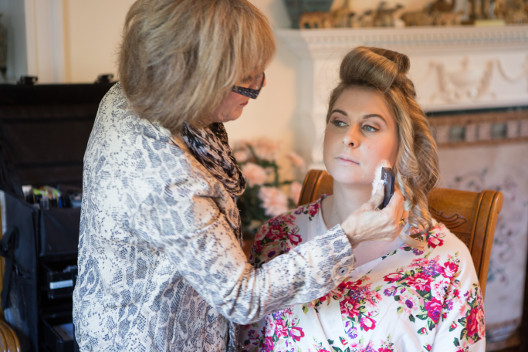 Bridal preview: (Trial): Expect to be with me for about an hour for your appointment . We will review together the details of your wedding day, scheduling timing any special requests etc. We also will talk about creating Your perfect Look. I will also discuss how you would like your bridal party makeup look as well.
Day of makeup application: We travel to YOUR LOCATION, which creates a wonderful, relaxed experience having your friends and family together . We arrive ON TIME with our fully equipped makeup kit, and chair, if needed extra lighting.
BEAUTIFUL FACES creates a schedule for a nice even flow with both hair and makeup application so no one feels rushed. This ensures that everyone is touched up , faux lashes are doubled checked and all ready to go ON TIME !
For Extra Add-On Services with Janis:
Hourly Rate: As your artist I am able to remain on site or travel to another location for any extra makeup changes or requests for an hourly rate. Rates begin once the last contracted service is completed. Price: $75 per hour
Minimums: For Hair and Makeup Combo there is a minimum of 6 people (some exceptions may apply)
Travel Fee: Our travel fees are based on location. We travel the first 20 miles at no charge.
We have very reasonable fees to have an additional Artist accompany us for larger number of people having services. If you have an extra-large group and or a time frame that is requiring an extra pair hands, I would be very happy to discuss an affordable fee
This would all be discussed at the trial with you , to make sure you are 100% comfortable and happy with whatever you decide you need on your very Special Day .
For extra large wedding with a short time frame we will take an Assistant Artist at NO COST TO YOU
FAQ's
WHAT SETS BEAUTIFUL FACES APART FROM OTHERS IN THE INDUSTRY?
We provide a highly individualized and informational consultation and trial and have a well-established group of experienced makeup artists and hair stylists who have a creative artistic approach to Airbrushing and Traditional application.
WHAT MAKEUP APPLICATION DO YOU USE?
With Over 10 years of experience with Airbrushing, the long lasting 14+ hour wear, sets it apart from Traditional foundation. If you read some foundations you will see a long list of chemicals used. we have read plenty of labels.
If you are comfortable with a Traditional makeup application we use NATURAL ORGANIC ALLERGY FREE FOUNDATION. No worries about it lasting just as long we will set your makeup with a NATURAL setting application.
DO YOU REQUIRE A MINIMUM?
No, for parties under 4-5 people we have a seasoned hair and makeup artist that will handle smaller groups.
ADDITIONAL INFORMATION?
We offer 100% Human Hair lashes as well as Mink lashes and want everyone to benefit" The Look" that is created when wearing them so we never over price them just $10.00/ Human Hair and $15.00 Mink Lashes.
First look and Ceremony changes, are no problem Janis will stay with you for $75.00/hour.
It is not unusual for us to be involved in helping you with your gown, or any last minute details. We enjoy being a part of these moments and those memories last a lifetime!
We pride ourselves on Excellent Customer Service and Exceptional attention to detail and it is an honor to be apart of your wedding day and we take that very seriously.